Dentures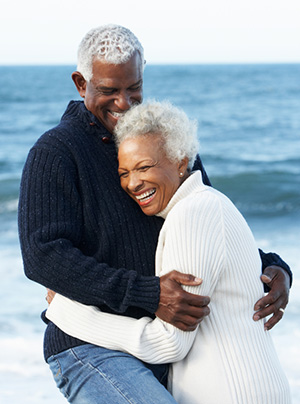 There are plenty of reasons why dentures have such a bad reputation: traditional dentures are artificial-looking, uncomfortable to wear, embarrassing to remove, and sometimes downright painful. Today's dentures, however, are a far cry from their old-fashioned counterparts. Dental technology has updated dentures, making them look more natural and feel more comfortable.
At White Family Dental in New Holland, we are especially pleased to offer implant-retained dentures that combine the lasting strength of dental implants with the improved utility of dentures. This new type of dentures is especially beneficial for those suffering from bone loss in their jaw that prevents their lower denture from staying in place. An implant-retained denture uses a post on each end to securely attach itself to the jawbone. The posts bond with the bone and prevent the attached denture from slipping. Individuals who gag from their full upper denture also benefit from implant-retained dentures that are more streamlined and do not cover the whole palate.
If you are suffering from extensive tooth loss and live in the New Holland, Pennsylvania area, contact our office today to learn more about how today's dentures can help you.