Invisalign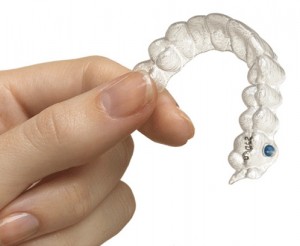 White Family Dental in New Holland is pleased to offer Invisalign braces for its patients in the New Holland community. Invisalign is a popular and innovative way to straighten your teeth without disrupting your lifestyle. Unlike traditional braces that draw unwanted attention with their unattractive metal, Invisalign braces are often called "invisible braces" because they are clear and hardly noticeable.
Invisalign uses the latest in dental technology to create custom-fit aligners that gradually straighten your teeth. The many benefits to these aligners include the following:
Aesthetics: Invisalign is named for the "invisible" quality of its clear aligners that easily go unnoticed. You will be surprised by how many people will not even know you are wearing braces.
Comfort: The aligners are smooth, unlike traditional braces with their painful brackets and wires. You won't have to worry about sore spots in your mouth from where metal is constantly rubbing or poking.
Convenience: The aligners can be easily removed for eating and flossing. You will still be able to eat your favorite foods, like caramel apples or corn-on-the-cob, and floss afterwards with ease.
Effectiveness: For most patients who wear their aligners for an average of 22 hours a day, Invisalign can straighten teeth up to 40% faster than traditional braces. You will be surprised at how efficiently your teeth are straightened with Invisalign.
There's never been a better time to get the straight, beautiful smile you've always wanted. With Invisalign at White Family Dental, you can avoid the discomfort and embarrassment of traditional braces and have your teeth straightened without anyone noticing. If you live in the New Holland community, Call White Family Dental today to find out if Invisalign is right for you.