Root Canals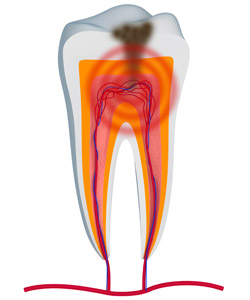 Do you have regular tooth pain or have you chipped or cracked a tooth? Such signs may indicate that your teeth are infected and at risk for tooth loss. White Family Dental of New Holland can help you prevent tooth loss through root canal treatments, otherwise called endodontics.
Root canal treatments involve removing the infected pulp, or the material inside your tooth, and cleaning the affected tooth. We then seal the inside of your tooth to prevent future infections.
Signs You Need a Root Canal:
Intense tooth pain when chewing
Swollen and tender gums
Sensitivity to hot or cold foods
Discolored teeth
Swelling or tenderness of the jaw bone
If you live in or near the New Holland area of Pennsylvania and have experienced any of these symptoms, contact our office today for relief.
Doesn't a Root Canal Hurt?
Root canals definitely have a negative reputation, but many patients find that getting one done is much less painful than the tooth pain they experienced beforehand. Many patients have also reported that a root canal feels similar to getting a filling. Afterwards, you will be relieved of the pain you have been enduring from the infection.
Lost or Cracked a Tooth?
Endodontic procedures will also help replace or repair teeth that have been knocked out or cracked from sports injuries or other accidents. We reset the loose teeth, including cracked portions of teeth, and reseal the teeth to protect against future infections. You will have a full set of teeth again, allowing you to chew your favorite foods, smile with confidence and speak naturally.
Contact us at White Family Dental in New Holland today to schedule an appointment.